Wednesday, May 11, 2019
Ernst Week in Review
Wednesday, April 24, 2019
Ernst, Grassley Encourage Iowans to Participate in National Drug Take Back Day
Wednesday, April 3, 2019
Ernst on NATO Secretary General's Address to Congress
Following a joint address to Congress by NATO Secretary General Jens Stoltenberg, U.S. Senator Joni Ernst (R-IA), a member of the Senate NATO Observer Group and Chairman of the Subcommittee on Emerging Threats and Capabilities of the Senate Committee on Armed Services, issued the following statement:
"The power of the United States abroad, and our safety at home in Iowa, is built on alliances and partnerships like NATO. For the past 70 years our membership in the organization has proven crucial to American security and prosperity at home and abroad.
"Today, Secretary General Stoltenberg reminded us just how critical the NATO alliance is to protecting our homeland and ensuring our way of life. I'm encouraged by his remarks, and look forward to our continued partnership with our NATO allies and friends around the globe."
Friday, March 22, 2019
Ernst Supports Governor Reynolds' Request for Federal Disaster Declaration
U.S. Senator Joni Ernst (R-IA) today sent a letter to President Trump in support of Governor Kim Reynolds' (R-IA) request for a federal disaster declaration for the State of Iowa. Nearly 60 counties in Iowa have experienced significant damage resulting from severe storms, heavy rain, and flooding that began on March 12, 2019.
 In the letter, Senator Ernst wrote, "I've spent much of this week on the ground in Iowa surveying the damage and meeting with constituents and local, state, and federal officials. The devastation caused by the flooding is incomprehensible. I respectfully ask you to approve Governor Reynolds' request as expeditiously as possible."
The full letter is below, and can be found here.
March 22, 2018
The Honorable Donald J. Trump
President of the United States
The White House
1600 Pennsylvania Avenue, NW
Washington, D.C. 20500
Dear Mr. President:
Iowa Governor Kim Reynolds has requested a major disaster declaration for the State of Iowa as a result of severe storms and flooding that have significantly impacted nearly 60 counties since March 12, 2019, causing an estimated $1.6 billion in damages. By requesting a major disaster declaration, Governor Reynolds has determined that the State of Iowa and local governments cannot effectively respond to this flooding incident without supplementary assistance from the federal government.
I've spent much of this week on the ground in Iowa surveying the damage and meeting with constituents and local, state, and federal officials. The devastation caused by the flooding is incomprehensible. I respectfully ask you to approve Governor Reynolds' request as expeditiously as possible.
I thank you for your consideration of this request, and will continue working with you and your administration to ensure Iowans receive the assistance they need.
Sincerely,
Joni K. Ernst
United States Senator
In Case You Missed It
Tuesday, March 14, 2019
Military Times: Use-it or lose-it: DoD dropped $4.6 million on crab and lobster, and $9,000 on a chair in last-minute spending spree
By: Kyle Rempfer, March 12, 2019
The federal government found a way to spend $97 billion in a single month last year, of which more than $61 billion can be attributed to the Pentagon.
 It's not a new phenomenon. In the last month of every fiscal year, federal agencies work to spend all that's left in their annual budgets. If they don't, the agencies worry they'll be appropriated a smaller share by Congress next year, hence the "use-it or lose-it" spending sprees.
 Rather than spend money on frivolous items, federal agencies like the Defense Department should admit their offices can be run on less, according to Adam Andrzejewski, founder and CEO of OpenTheBooks.
OpenTheBooks is a nonprofit aimed at bringing transparency and efficiency to the federal budget. They released a report this March detailing fiscal 2018 use-it-or-lose-it spending habits.
One of the stand-out purchases by the Pentagon included a $9,341 Wexford leather club chair purchased from the Interior Resource Group, according to the report.
 The DoD also bought $32 million worth of batteries, $4.3 million worth of books and pamphlets, $220 million worth of furniture, $7.6 million worth of workout equipment and $786.3 million on "guns, ammunition and bombs."
 The Pentagon spent the most on five of those products: $124.3 million on medium caliber ammunition, $92.3 million for modification purposes, $75 million on the Paveway family of laser-guided bombs, nearly $54 million on M795 TNT, and $2.8 million on 40mm ammunition systems.
 Federal agencies also like to splurge on luxury food items before the end of the fiscal year, according to the report. The Pentagon spent $2.3 million on crab, including snow crab, Alaskan king crab, and crab legs and claws, as well as another $2.3 million on lobster tail. Federal agencies also spent $293,245 on steak, to include rib eye, top sirloin and flank steak.
The DoD also spent big on public relations and marketing in September, inking $153.3 million in contracts.
 The military also dropped $86.5 million on transportation contracts, of which more than $53.5 million went to passenger vehicles from Navistar Defense, the maker of Mine-Resistant Ambush Protected vehicles.
 Some of the big ticket spending items are attributed to the usual major defense contractors. The Pentagon spent $8.1 billion on contracts with Lockheed Martin and $5.1 billion with Boeing in September, for instance.
 Some congressional leaders have shown an interest in reigning in this type of end-of-the-year spending, "but we need more," Andrzejewski said.
 "Senators Rand Paul, Mark Warner and Joni Ernst understand Congress needs to make structural reforms to get this problem under control," he added.
 Just prior to the spending spree kicking off, a bipartisan group of senators sent a letter on Aug. 29 to the DoD's chief financial officer warning against the wasteful spending at the end of the quarter.
 "According to a recent report, with only limited time left in the current fiscal year, eight of the top 10 highest-spending federal agencies have not used as much as 40 percent of their budgets," the lawmakers wrote in August. "Some observers have raised concerns that this year's annual spending binge could be the biggest yet."
 And big it was. The $97 billion spent on contracts in September 2018 marks a 16 percent increase from fiscal 2017, and a 39-percent increase from fiscal 2015, according to OpenTheBooks.
To read in full, click here.
Senator Ernst Joins Bipartisan Effort For Timely DoD Audit
"It is imperative that subsequent, annual audits continue as planned."
By U.S. Senator Joni Ernst
February 4, 2019
Ernst Week in Review
By U.S. Senator Joni Ernst
February 2, 2019
 Honoring Sarah Root 
On January 31, 2016, the day of her college graduation, Iowa native Sarah Root was struck and killed by an illegal immigrant who was drag racing and driving extremely drunk. After he was charged, he was not detained by U.S. Immigration and Customs Enforcement (ICE), and instead posted bail and disappeared.  Now, three years later, Sarah's killer remains at large.
In honor of Sarah, this week, Senator Ernst took to the Senate floor to reintroduce her bill—Sarah's Law—which would require federal law enforcement to detain illegal immigrants who are criminally charged with killing or seriously injuring another person. Ernst spoke to Fox News and Radio Iowa about the importance of getting Sarah's Law passed.
Click here or on the image above to watch the whole interview.
Putting Iowa First 
Earlier this year, the Department of Education announced an initiative that would address the inappropriate use of restraint and seclusion in schools across the country. Senator Ernst has been engaged with the Department of Education on this issue, following allegations of misreporting of seclusion and restraint within the Cedar Rapids Community School District. KCRG covered Senator Ernst's reaction to the new initiative, which you can watch here.
On Wednesday mornings when the Senate is session, you can find Senator Joni Ernst talking with Iowans over a warm cup of coffee. This week, Ernst held her inaugural Capitol Grounds constituent coffee for 2019! Check out some photos below.
One of Senator Ernst's favorite traditions is doing a ruck march in Washington, D.C. with fellow veterans and members of her staff to honor our nation's veterans and servicemembers. Despite the cold weather—though not as cold as back home in Iowa—Senator Ernst pushed full-speed ahead on Wednesday night.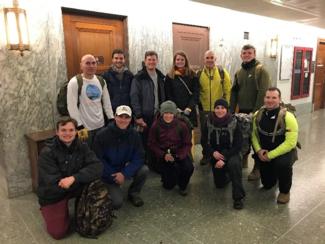 Ensuring the Enduring Defeat of ISIS and Al Qaeda 
The Strengthening America's Security in the Middle East Act, which was again considered by the Senate this week, is a bill that will help reinforce our alliances in the Middle East and keep pressure on the Assad regime in Syria. Ernst cosponsored an amendment to the bill that urges the Administration to ensure conditions have been met for the enduring defeat of al Qaeda and ISIS, as well as the protection of regional partners and allies, before withdrawing U.S. forces from Syria or Afghanistan.
Making 'em Squeal
Senator Ernst was elected to make Washington "squeal." She is always searching for and identifying areas of waste, fraud and abuse. Each month, Ernst gives out a "Squeal Award" which recognizes a Washington expense, program or concept that's wasteful and must be cut.
The National Institutes of Health (NIH) supported ten different cat studies—funded from grants totaling $1.3 million of taxpayer money—that concluded classical music has an effect on cat behaviors. These studies do not comply with a law requiring disclosure of the cost to taxpayers for a federally funded project. Senator Ernst has asked the Government Accountability Office (GAO) to find out why NIH studies are refusing to disclose the cost. These cat studies are another great example of taxpayer dollars being tossed around like a "ball of yarn," and that's why NIH received the January Squeal Award.
Ernst Week in Review
By U.S. Senator Joni Ernst
January 5, 2019
And we're back! The 116th Congress is now in session, and Senator Joni Ernst will be serving on the following Senate committees in this Congress: